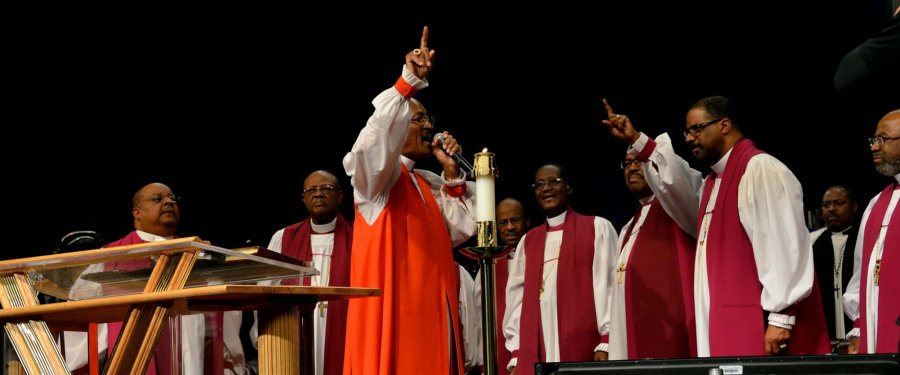 "Globally helping men and women see themselves in the future."
Presiding Bishop Charles E. Blake, Sr.
CHURCH OF GOD IN CHRIST
2nd INTERNATIONAL CONFERENCE IN ISRAEL
August 28 – September 7, 2017
EVENTS
April Call Meeting
Memphis, TN
April 3 – 6, 2017
Men Perfecting Men Conference
Philadelphia, PA
May 3 – 5, 2017
Shepherds Conference & Elders Academy
Las Vegas, NV
May 8 – 11, 2017
International Women's Convention & Crusade
Orlando, FL
May 29 – June 2, 2017
AIM Convention
Charlotte, NC
July 3 – 7, 2017
Greatest Church in the world!

Four generations in and I'm still not DOUBTIN' BOUT THE WAY. This is the Lord's church, and one that I am proud to be a part of. So great a church and so marvelous a heritage --- THIS IS THE CHURCH OF GOD IN CHRIST!

Minister R. Elliot Briggs

One of the many things I love about the Church of God in Christ organization is that it grooms young men and women for public speaking and leadership. In my early years of attending Sunshine Band and Purity Class my local church made me memorize and recite lengthy speeches. I didn't know at the time that I was being prepared for something greater in life. Thanks to the training, public speaking and leadership skills are now a few of my strong suits. I now serve in several leadership roles in my community and church.

So grateful for God placing me under the covering of Church of God In Christ. The app and page is such a blessing, so informative and allows the connection for those who are unable to make it to some of the events.

Power packed preaching, life changing and world healing ministry! I love it!

COGIC is a wonderful organization with a global reach, impacting the world for the Lord Jesus Christ.
"Jesus came to mend broken hearts, heal the sick and bring joy… find out more about Jesus."
The Church Of God In Christ consists of a number of departments and ministries that help us to carry out the vision of the church to save souls and transform lives.  We also have a number or resources to assist the local church and interact with our membership.